N. Korea Nuke Deal: A Sad Day For Trump-Haters?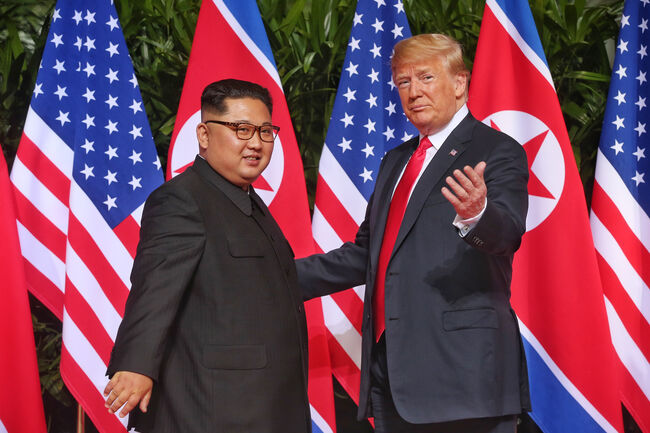 I was stunned this past weekend when comedian Bill Maher, a liberal who at times can be refreshingly fair and rational, said he wanted the economy to tank so President Trump wouldn't be re-elected.That's something you probably shouldn't think, let alone say out loud. Now there is even worse news for the Trump-haters as the Singapore Summit appears to have been a success. Prominent Democrats like Elizabeth Warren and Chuck Schumer will probably say all the right things but they have to be worried by the swift and surprising development. It most certainly doesn't help "the resistance".
Don't expect a big celebration on TV either (except for Fox of course). Trump's detractors in the mainstream media will legitimately focus on issues involving verification and Kim Jong Un's despicable record on human rights, but watching MSNBC and CNN this morning felt more like funeral coverage than reporting on a historic event that should provide hope and generate cautious optimism.
That said, there is a long, long way to go. There's no framework yet for when or how North Korea would "de-nuke" and the BIG hurdle will be how to verify the denuclearization is irreversible. There are dozens of other uncertainties. Among them: What U.S. "security guarantees" are being offered? Will there be an actual treaty? Will the U.S. eventually reduce its military presence in South Korea. What role, if any, will China have in the process?
While a decades-long problem can't be solved in a one-day summit, I'm hopeful. Could the "deal" fall apart tomorrow? Next week? Next month? Sure, but I hope not and I hope the Trump-haters, deep in their hearts, aren't rooting for failure either. - Chuck
Kelly and I talked about the summit this morning:
We also talked to reporter John Decker in Singapore:

Chuck and Kelly
Want to know more about Chuck and Kelly? Get their official bio, social pages & more on News Radio 810 & 103.1 WGY!
Read more