Beat The Heat: Take a Day Trip to a Local Beach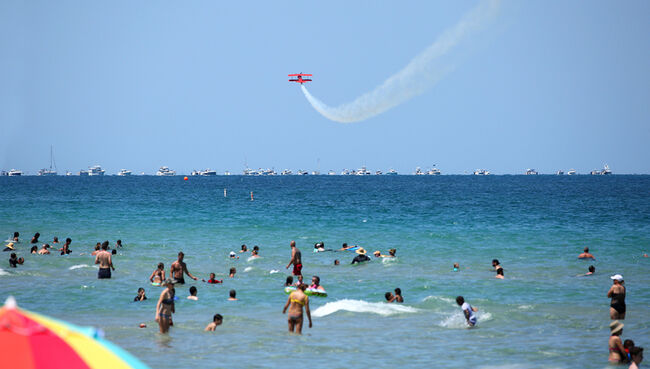 Albany is unique in the way that there are many places that are within driving distance to cool off. Whether you're looking for a local beach to bring the family or relax with a book, here is a list of what's nearby.
1.) Brown's Beach on Saratoga Lake
Brown's Beach is one of the only public swimming spots on Saratoga Lake. It has public access with a shallow launch area which makes it a good option for bringing your kayak or canoe.
2.) Grafton Lake State Park
Grafton Lake has many outdoor activities to satisfy all of your needs. You can swim at Long Pond or enjoy fishing and boating at Shaver, Long, Mill and Second Pond. Or walk, bike or hike through it's 25 miles of nature tails.
3.) Thompson's Lake
Thompson's Lake offers a sandy beach, boat rentals, stand-up paddleboards, canoes, kayaks, and fishing areas.
4.) Moreau Lake State Park
Moreau Lake State Park is the 9th largest state park in New York. It has 14 miles of shoreline along the Hudson River, miles of trails and an easily accessible lake. You can swim and kayak on the lake or head to the nature center of playground.
5.) Shepard Park Beach
Shepard Park beach is centrally located in Lake George near the village restaurants and shopping. It has an outdoor stage for live music and entertainment, a playground and public restrooms.
6.) Veteran's Memorial Park Beach
Just a half mile north of Rogers Memorial Park Beach in Lake George, Veteran's Memorial Park Beach offers a park pavilion, picnic tables, beach and grills and lifeguards are on duty from 9am to 5pm.
7.) Battenkill River
If laying on the beach isn't your thing, head to the Battenkill River for tubing. The Green Mountain's cold water is refreshing on hot summer days.
If you prefer salt water there are many nearby options as well.
1.) Point Pleasant, New Jersey
A little over 3 hours away, Point Pleasant have tons of activities including shopping, rides, an aquarium and a tiki bar.
2.) Coney Island, New York
Coney Island offers history, an aquarium and a beach. The beach is free and has a boardwalk with carousel.
3.) Silver Sands State Park, Milford Connecticut
This one is the closest ocean on the list. Silver Sands State Park is over a half mile of sandy beaches. Stroll the beach or boardwalk searching for seashells or go fishing!
4.) Cape Cod, Massachusetts
If you have a couple of days, Cape Cod is a great spot for a mini family vacation. It's a touristy beach with New England Charm. Cape Cod is also great for bicycling, climbing sand dunes or just laying in the sun.
And if you'd like a place for your dog to cool off... Lake George Dog Beach is the perfect place. It runs along the shore line between Lake George Steamboat Company and Million Dollar Beach. The unofficial beach is sponsored by the Dog Cabin and includes waste disposal stations. You'll find dogs playing and swimming in the water and the beach is free to the public, but there is no lifeguard on duty.
Photo: Getty Images

Chuck and Kelly
Want to know more about Chuck and Kelly? Get their official bio, social pages & more on News Radio 810 & 103.1 WGY!
Read more