Arkansas Football Players Suspended For Flirting Over Warming Up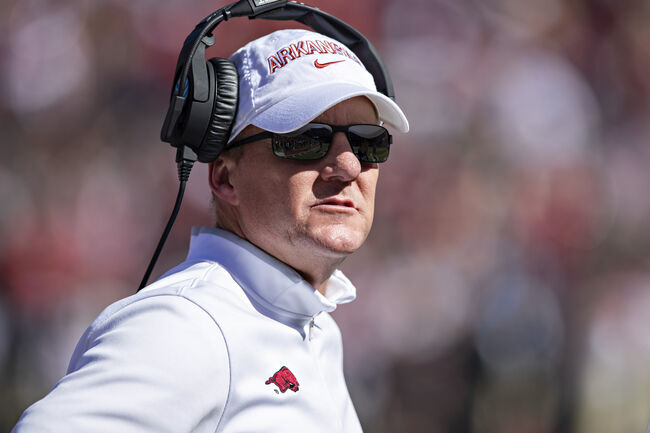 It's been a rough year from the Arkansas Razorbacks. First off, their season has turned out be a bust with a 2-9 record. Plus, you might remember, they're the team that got exposed on one of the ballsiest trick plays in football history. That was when the punt returner for North Texas faked a fair catch, paused, and then ran for a 90-yard touchdown untouched. Talk about embarrassing…and yet, it gets worse.
Arkansas head coach Chad Morris has officially announced that two of his defensive backs, Kamren Curl and Ryan Pulley, will be suspended for this week's titanic match against Missouri. As the story goes, prior to the Razorback's shellacking against Mississippi State – where they lost 52-6 – those two players were doing something other than warming up for the game with their fellow teammates.
Instead, they were seen chatting up a couple of the Mississippi State cheerleaders, and even had the balls to take some selfies with the ladies. Coach Morris put it more bluntly: "They will not be here today or yesterday or any part of this week for unacceptable behavior—actions that are completely unacceptable to anything we're about."
Curl's a sophomore safety that's started every game for the Razorbacks this season and has racked up 53 tackles on the year. Pulley's started nine games at cornerback and leads the team in interceptions with three. Surely, the two will have some major work ahead of them winning back their teammates in the locker room, though there's no word of if they at least got the ladies' phone numbers.
Photo: Getty Images

Chuck and Kelly
Want to know more about Chuck and Kelly? Get their official bio, social pages & more on News Radio 810 & 103.1 WGY!
Read more