The Most Popular Hot Sauces In America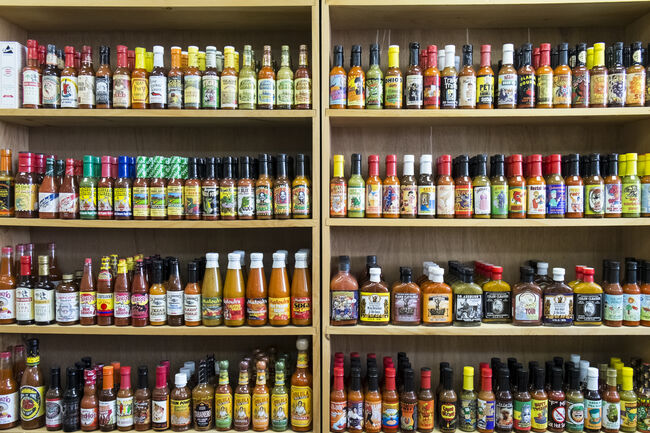 While some folks love hot sauce so much they have a whole shelf in the fridge dedicated to the spicy stuff, even casual fans have a personal preference when it comes to what to shake on their food. And in honor of National Hot Sauce Day on January 22nd, grocery delivery service Instacart reviewed their data to find out which hot sauces are the most popular in America and here are the top 10.
10) Ninja Squirrel - This sriracha-style hot sauce has the cutest mascot and is less spicy than Huy Fong's famous "rooster sauce."
9) Taco Bell - When you're tired of holding onto hot sauce packets, you can get the fast food chain's signature sauces, mild, hot, fire, and diablo by the bottle.
8) Crystal - The Louisiana staple has just three ingredients: aged red cayenne peppers, vinegar, and salt.
7) La Costeña - Fresh and dried red jalapeño peppers give this Mexican hot sauce its kick.
6) Texas Pete - This hot sauce was actually born in Winston-Salem, North Carolina back in 1929, so there's nothing Texas about it.
5) Tapatio - People love the sweet tang of this Mexican-style hot sauce made in California.
4) Tabasco - There's a huge jump in popularity from numbers four and five on this list. Instacart points out that shoppers bought Tabasco - the medium spicy sauce that was invented way back in 1868 - four times more than they bought Tapatio.
3) Huy Fong Foods Sriracha - Green-topped bottles of this iconic hot sauce are everywhere these days and the bright red, garlicky spicy sriracha is a favorite.
2) Franks RedHot - This sauce has the honor of being the main ingredient in the first buffalo wing sauce created at the Anchor Bar and Grill in Buffalo, NY in 1964. And it's still a hit.
1) Cholula - Coming in at number one, Cholula is known for spices that compliment other flavors with its heat and tang instead of overwhelming them.
Photo - Getty Images

Chuck and Kelly
Want to know more about Chuck and Kelly? Get their official bio, social pages & more on News Radio 810 & 103.1 WGY!
Read more