Tips to Prepare for This Weekend's Snowstorm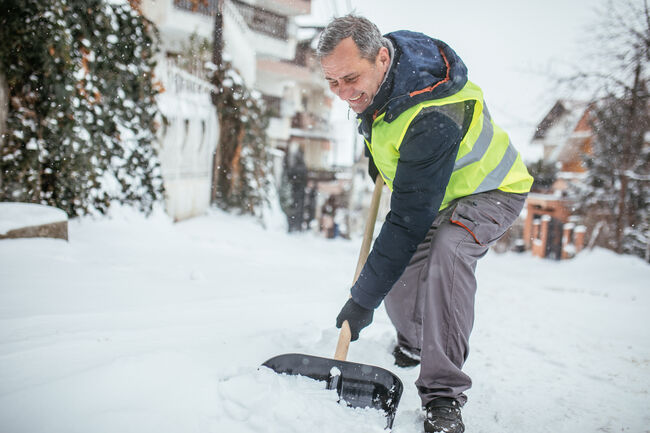 The projected snowfall for this weekend currently projected to be between 12-18 inches. There are a few things you should remember:
Have supplies ready - have warm clothes and blankets ready and have non-perishable foods in case of a power outage. Make sure you have all necessary medications as well. And don't forget about the family dog.
Make sure to have heating supplies - make sure to have a sufficient amount of oil or fuel for your home and generator if you have one. If you have and will be using a fire place or wood-burning stove, have a good supply of dry season wood. Do not use an oven for heating.
Prepare for a power outage - turn up your heat now, close off any rooms not in use. Charge battery powered electronics. Have your flashlights and batteries ready. If you do lose power, allow water to trickle to prevent pipes from freezing.
Test smoke and carbon monoxide detectors - the risk of carbon monoxide poisoning increases during winter storms as people turn to alternate heat sources.
Limit your driving - snow fall will cause problems on the road. Less traffic means that plows can clear it more easily. And if you are uncomfortable driving in the snow, do not go out. If you end up trapped in your car, stay inside! Make sure your tires and windshield wipers are in good condition.
Move cars off the street - this will also allow plows to keep the roads clear.
Create and emergency kit for your car - your kit should include jumper cables, sand, a flashlight, warm clothes and blankets, water and non-perishable snacks. Also, make sure to have a full tank of gas before heading out.
Take caution while shoveling - if you feel chest pain or sudden weakness, stop what you are doing. Seek medical attention right away if chest pain increases or is prolonged.
Clear snow from around fire hydrants - in the event of a fire, the quicker firefighters can access water, the quicker the flames can be put out. Also make sure to clear all sidewalks and walkways.
Clear snow from exhaust vents - snow packed around around home vents can cause the vents to redirect exhaust back into your house.
Check on neighbors - older adults and young children are more at risk in extreme cold.
Know the signs of hypothermia and frostbite - frostbite causes loss of feeling and color, usually around the face fingers and toes. If you experience frostbite, go to a warm room or soak in warm water but do not massage the area or use a heating pad. Hypothermia is a low body temperature. Body temperature below 95 degrees is an emergency. Signs of hypothermia are shivering, confusion, memory loss slurred speech exhausted or drowsiness. You should warm the center of the body first - chest, neck head and groin. Keep dry and wrapped in warm blankets.
Finally, enjoy it! - go outside, make a snowman or go sledding.
Photo: Getty Images

Chuck and Kelly
Want to know more about Chuck and Kelly? Get their official bio, social pages & more on News Radio 810 & 103.1 WGY!
Read more