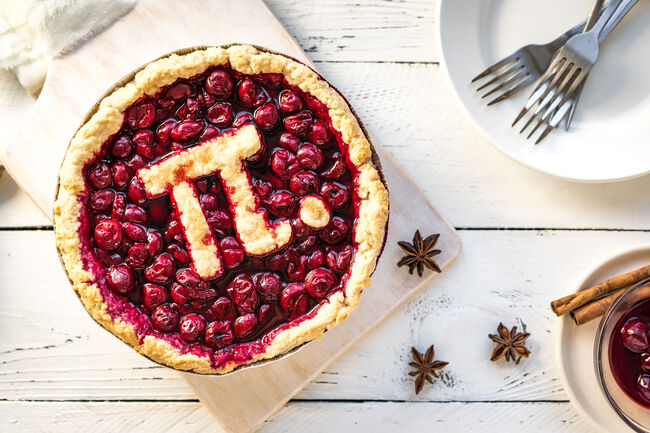 March 14th is Pi Day! This annual celebration is always on March 14th and commemorates the mathematical constant of Pi (π). It is celebrated on 3/14, as it signifies the three most significant digits of Pi in the decimal form: 3, 1, and 4.
How to celebrate Pi Day? There are lots of ways, throwing pies, discussing the significance of the number...or just including eating pie.
And here's a fun fact – MIT (Massachusetts Institute of Technology) has often mailed its application decision letters to prospective college students for delivery on Pi Day! Starting in 2012, MIT has posted its application decisions on a private website on Pi Day, exactly at 6:28pm. They have deemed this "Tau Time," which is in honor of the rival numbers Pi and Tau.
Pi has been mathematically calculated to over one trillion digits beyond its decimal point! Pi's infinite nature makes it a fun concept to celebrate and study.
And of course there are food specials to help you celebrate.
BJ's Restaurant & Brewhouse- Score a mini one-topping pizza for just $3.14 when you dine in today.
Blaze Pizza- Download their app to get a pizza for $3.14 today, but you have to order in person to get the Pi Day deal.
Boston Market- Buy one chicken pot pie and a drink and get a pot pie for free today, just be sure to bring inthis coupon.
Cici's- Buy one adult buffet meal and a large drink and get another adult buffet meal for $3.14 withthis coupon.
Stop & Shop- An eight-inch pie is just $3.14 -as you probably suspected- and you get your choice of pumpkin, apple, or Dutch apple.
Photo: Getty Images

Chuck and Kelly
Want to know more about Chuck and Kelly? Get their official bio, social pages & more on News Radio 810 & 103.1 WGY!
Read more